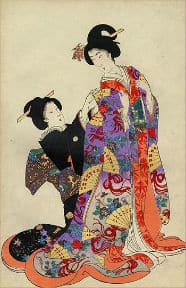 Wednesday 25 January 2017 at 5:05 – 7:00pm
SOAS University of London
Room: TBC
Illustrated talk: The Ooku, the Shogun's 'Harem': Life in the Women's Palace in Nineteenth Century Japan
In 1854 Atsu, an 18-year-old girl, was chosen to become the shogun's consort and rule over the ooku, the shogun's harem or Women's Palace.

No westerner ever visited the Women's Palace or even knew it existed. The women were sworn to secrecy and even after the palace closed down in 1868 very few ever revealed anything of their lives there. At its pinnacle it was home to three thousand women – far more than the number who populated the Topkapi Harem in Istanbul – but only one man, the shogun, could enter. It was an unimaginably different world, with its beauty, riches, Byzantine social codes and internecine struggles.

The Women's Palace was a place of enormous luxury and beauty but it was also a prison. Once you entered you would never leave. Yet the women wielded enormous power. There were conspiracies, murders, even hauntings inside this gilded cage. I will describe some of the murders and misdemeanours that occurred.

When they were very old a few of the palace women agreed to be interviewed and scholars have looked into their lives. Recently there has been a burgeoning of interest and several books have come out. I will draw on these new materials to build up a picture of life in this extraordinary place.
Organiser: Centres & Programmes Office
Contact email: centres@soas.ac.uk
Contact Tel: +44 (0)20 7898 4893