Cookbooks

A Taste of Japan
Buy from Amazon.co.uk · Buy from Amazon.com
Accompanying the popular BBC2 series A Taste of Japan which Lesley planned, wrote and presented, A Taste of Japan demystifies the visual artistry, simplicity of preparation and healthfulness of Japanese cuisine for the home cook.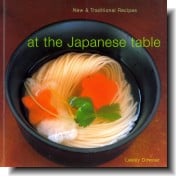 The book covers all the key Japanese dishes, some familiar, some less so, with over 90 recipes and colour photographs of how the dishes should look on the plate. There are descriptions and illustrations of all the main ingredients and equipment of Japanese cooking plus explanations of everything from how to carve carrot 'flowers' to how to slice sashimi.
More than just a cookbook, Lesley takes you on a culinary tour of Japan – to the feasts and festivals, into the homes, restaurants, sushi bars, street stalls and even the temples for a taste of this popular cuisine. Along the way she explains the history, legends and lore of the foods and why, as a result of their diet, the Japanese live longer than anyone else in the world.
'A good introduction to a way of cooking that is so very different from our own.' Sophie Grigson, Evening Standard
Japanese Vegetarian Cookery
Buy from Amazon.co.uk · Buy from Amazon.com
As Buddhists the Japanese have been vegetarian for centuries and have developed an extraordinary variety of vegetarian ingredients and dishes.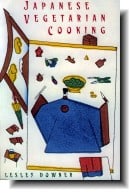 In Japanese Vegetarian Cookery, Lesley provides carefully tested recipes for dishes from home cooking and Buddhist vegetarian temple cuisine, explaining how to cook with tofu, miso and seaweeds, plus how to make tofu, miso, natto and yuba (bean curd skin – a delicacy in Japan) and umeboshi, salty pickled plums.
She prefaces her recipes with entertaining stories from her life in Japan and explanations of the names of particular dishes – such as tales of the wily fox and why fox noodles are so-called. The record of a love affair with Japan seen through its food! And a practical guide to mastering one of the world's great cuisines.
'With its emphasis on nature's inanimate bounty, will appeal to the Zen-minded.' The Listener

'Excellent.' Colin Spencer, New Statesman