Geisha: The Remarkable Truth Behind the Fiction
Buy from Amazon.co.uk
· Buy from Amazon.com
 · Kindle UK · Kindle US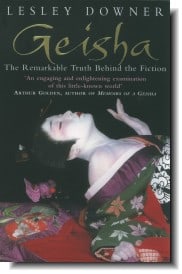 'When I see the first new moon
Faintly in the dusk
I think of the moth eyebrows
Of a girl I saw only once.'
On a Kyoto backstreet one sultry May evening, I caught my first glimpse of a geisha. She came flitting towards me with a faint tinkling of bells, an extraordinary vision like an apparition from another age. She was a vision made for darkness, for an era when geisha used to flit through the gloom of unlit teahouses, glimpsed only by flickering candlelight. Their painted faces transmuted them into shamanesses who could transport men into another world – a world of dreams ….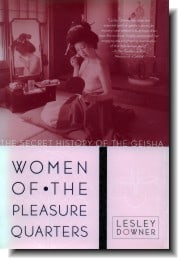 Ever since westerners arrived in Japan, they have been intrigued by Japanese womanhood and, above all, by geisha. Contrary to popular opinion, geisha are not prostitutes but literally 'arts people'. Their accomplishments might include singing, dancing or playing a musical instrument but, above all, they are masters of the art of conversation, soothing the worries of the highly paid businessmen who can afford their attentions with extreme skill and patience.
Inhabiting a world defined by silence and mystery, geisha are notoriously difficult to meet and even to find. Lesley Downer, an award-winning writer, Japanese scholar and consummate storyteller, gained more access into this world than almost any other westerner ever has and spent several months living there. In Geisha: The Remarkable Truth Behind the Fiction, she weaves together intimate portraits of modern geisha with the romantic legends and colourful historical tales of geisha of the past.
Watch Lesley talking about Geisha on Meet the Author.
Reviews
'Lesley Downer has taken the essential truth of geisha culture – its mystery – and peeled it away layer after layer like an onion. I highly recommend her engaging and enlightening examination of this little-known world.' Arthur Golden
'Exquisite … Lesley Downer has crafted, with wonderful precision, the best ever portrait of those mysterious creatures who still ply their venerable craft in the silent backwaters of Japan. Geisha deserves to become a classic.' Simon Winchester
'Downer penetrates, with understated sensitivity, a perennially misunderstood world, exploring both its storied past and ambiguous present. Downer describes her increasing intimacy with the Kyoto geisha with candour and grace. She is intelligent and curious and modest, and the results of her very personal research are deeply satisfying.' The New York Times Book Review
'Lesley Downer has created a masterpiece in subject and mood.' Jonathan Mirsky, The Spectator
'Lesley Downer has succeeded in penetrating this intensely secret and rapidly vanishing world and describing it brilliantly.' Sunday Telegraph
'This is the best account among several of the real life of the geisha. Fascinating, cultured and still capable of surprising and shocking a western audience.' Bookseller