Lesley Downer's great passion is Japan. Her mother was Chinese and her father a professor of Chinese, so she grew up in a house full of books on Asia. But it was Japan, not China, that proved the more alluring. She has lived there on and off for a total of some fifteen years and written many books about the country and its culture. It has been an ongoing love affair.
Her first book, On the Narrow Road to the Deep North, was shortlisted for the Somerset Maugham Travel Book of the Year Award. It was televised by WNET and Channel 4 under the title Journey to a Lost Japan and by NHK as Journey of the Heart. The Brothers was chosen as a New York Times 'Book of the Year'.
To research Geisha: The Remarkable Truth Behind the Fiction, she lived among the geisha and little by little found herself being transformed into one of them. Madame Sadayakko: The Geisha who Seduced the West is the story of the turn-of-the-century Japanese actress who was the model for Puccini's Madame Butterfly.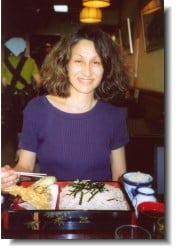 She also contributed articles on geisha to Geisha: Beyond the Painted Smile, published by the Peabody Essex Museum, and The Sex Book, edited by Stephen Bailey, and her first piece of fiction – a short story – to Amazonian: the Penguin Book of New Woman's Travel Writing.
Lesley Downer writes regular book reviews for the New York Times Book Review and the occasional feature article for the Sunday Times Magazine. She was a regular contributor to the arts and leisure page of the Wall Street Journal and the Wall Street Journal Europe, covering arts, leisure and fashion (including London Fashion Week – a wonderful commission!), from 1991 to 2001. She has written for a range of newspapers and magazines, including the New York Times, the Sunday Times, the Times, the Telegraph, the Observer, the Scotsman, Fortune Magazine, Prospect and also for Shukan Shincho and Newsweek Japan.
She has lectured to many institutions including the Japan Society, Asia House, the Royal Geographic Society and a lecture for Asia House at the British Museum. She has also lectured at the Japan Society in New York and Japan Societies and Asia Societies across both the US and the UK. Lesley lives in London with her husband, the author Arthur I. Miller, and still makes sure she goes to Japan every year.
Lesley's first novel, The Last Concubine, is a historical romance set in nineteenth century Japan, a society in which there was no word for or concept of romantic love; it is nonetheless a love story. It was shortlisted for Romantic Novel of the Year 2009.