Madame Sadayakko: The Geisha who Seduced the West
Buy from Amazon.co.uk · Buy from Amazon.com · Kindle UK · Kindle US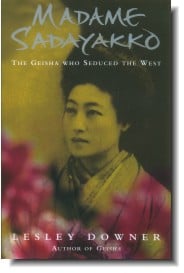 'She is an opium hallucination of the Far East, elegant and fragile like an Utamaro print.'
Jean Lorrain
In 1902 Puccini was working on Madame Butterfly. He had the plot for his opera but had never seen or met a real life flesh and blood Japanese woman. Japan had been open to the west for less than 50 years and few Japanese ever travelled aboard. Then Sadayakko arrived in Milan with her troupe of travelling actors ….
It is hard to imagine the storm of excitement Sadayakko created when she toured the United States and Europe at the turn of the last century. Here for the first time was a real geisha – not just that but the most celebrated geisha in Japan, so beautiful that the prime minister of the day paid a fortune to deflower her. Now, at the age of twenty-seven, she was launching herself into a new career as Japan's first actress.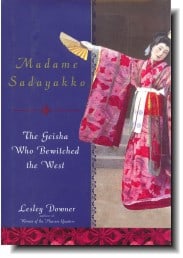 From San Francisco to New York, London, Paris, Berlin and St Petersburg, audiences were mesmerised by her acting and thrilled by her exquisite dancing. She performed for President McKinley in Washington, Edward Prince of Wales in London and Emperor Franz Josef in Vienna and dined with Tsar Nikolai II in St Petersburg. Picasso painted her, Rodin admired her and Gide pronounced her 'as great as Aeschylus'. In Milan, Puccini attended all her performances. He reshaped his opera on the lines of her dramas and modelled Cho-cho-san on her.
Sadayakko was a rebel who carved out her own path with nothing but her beauty, wit and talent. But in Japan, she suffered the stigma of being an ex-geisha and an actor, both professions at the bottom of society. In the end she was forced to choose between respectability and love.
Her story plays out against the background of the beguiling era when Japan and the west were meeting each other for the first time – for she was on the cusp of this collision of cultures. This is the true story of Sadayakko's life and loves and her struggle to carve out a life for herself in a world in which women were supposed to be subservient to men. Geisha, actress, mistress – it is the story of a life lived passionately.
Watch Lesley talking about Madame Sadayakko on Meet the Author.
Watch Lesley speaking on Sadayakko at the Royal Opera House on Tuesday March 14th 2017
Reviews
'A comprehensive, intricate portrait of a woman whose fame was shaped in equal parts by her will and her time.' New York Times Book Review
'Downer is an agile and evocative writer who treats this sensational tale with consistent elegance.' The Times
'Told with painstaking detail, some perhaps inevitable romanticising and a generous dose of intriguing historical anecdotes.' Times Literary Supplement
'An extraordinary adventure story.' Sunday Telegraph
'A delicious book, a vivid recreation of Meiji Japan and Belle Époque Europe.' Toronto Star
'With the impassioned hand of a novelist, Lesley Downer sweeps you off your feet and transports you to the world of Sadayakko – a world of breathtaking dramas and whirlwind adventures.' Margaret F Rosenthal, author of The Honest Courtesan.
'Downer's canvas teems with life.' Scotsman