The Last Concubine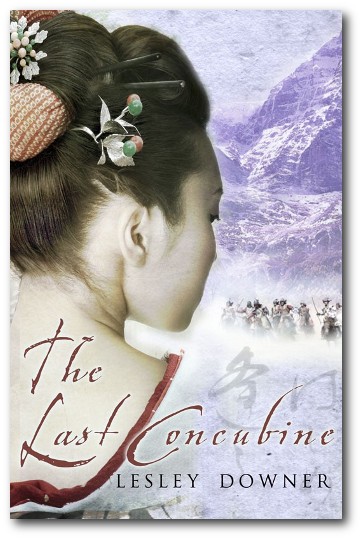 Shortlisted for Romantic Novel of the Year 2009, translated into 30 languages.
'From long ago
Though I had heard to meet
Could only mean to part
Yet I gave myself to you
Forgetful of the coming dawn.'

1861. Growing up deep in the mountains of rural Japan, Sachi has always felt different, her pale skin and fine features setting her apart from her friends and family.
Then, when she is just eleven, an imperial princess passes through her village and sweeps her off to the women's palace in the great city of Edo. Bristling with intrigue and erotic rivalries, the palace is home to three thousand women and only one man – the young shogun. Sachi is chosen as his concubine.
But Japan is changing. Black Ships have come from the West, bringing foreigners eager to add it to their colonial empires. As civil war erupts, Sachi flees for her life.
Rescued by a rebel warrior, she finds unknown feelings stirring within her. But this is a world in which private passions have no place and there is not even a word for 'love'. Before she dare dream of a life with him, Sachi must unravel the mystery of her own origins – a mystery that encompasses a wrong so terrible that it threatens to destroy her.
Set in one of the most tumultuous eras in Japanese history, Sachi's story is a potent mix of adventure and high romance. More than a love story, it also chronicles Japan's extraordinary change from a medieval to a modern country in a matter of years. From the timeless beauty of the Women's Palace in Edo to bloody battles fought outside its walls, The Last Concubine is an epic evocation of a country in revolution, and of a young woman's quest to find out who she really is.
The Last Concubine in paperback.
Buy from Amazon.co.uk
Listen to Lesley talking about The Last Concubine:
broadcast on Woman's Hour on Radio 4 on February 19th 2008 at 10.30 am.
Watch Lesley talking about The Last Concubine on Meet the Author.
Reviews
'A sweeping historical drama … it is fluently written and the political events, battles, customs minutiae of daily life and even the weather have all been meticulously researched to recreate Japan in the 1860s.' Literary Review
'Throughout, author Lesley Downer knows just what she is doing. She is writing a historically accurate romance, she is drawing on her knowledge of women's lives in Japan … and she is respecting the fairy-tale conventions that govern her world. … [The Last Concubine] does its job so well that one can see looming a large, long film version.' Donald Richie, The Japan Times
'Downer's epic tale, her first novel, offers a fascinating glimpse into a mysterious world. Like the very best romantic novels, it's a real page-turner…' Emma Lee-Potter, Daily Express
'Lesley Downer's first novel chronicles an unexpected romance that grows in the gulf between old and new in nineteenth century Japan. Romantic love, a nameless concept in the society of the day is an interesting theme, but the real page turner is the historical backdrop, taking us from the secretive and elegant women's palace to the bloody samurai battlegrounds […] The backdrop to her story […]  is a seemingly effortless creation and left me thirsting to know more about the era.' Anna Davis, The Japan Society