The Brothers: The Hidden World of Japan's Richest Family
Buy from Amazon.co.uk · Buy from Amazon.com · Kindle UK · Kindle US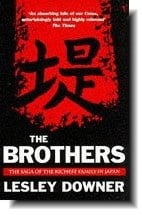 'Talking about business – you have to go right to the gates of prison …'
The hundred year saga of the loves, lives and rivalries of one of Japan's most glamorous business dynasties. Set against the background of Japan's rise to become one of the world's most prosperous and technically advanced countries, this is the epic story of two generations of the Tsutsumi family, famous in Japan as much for their hatred of each other as for their fabled wealth.
At the heart of it are three men: the roguish father with his string of mistresses who built the family fortune before and during World War II; the illegitimate son who inherited it and turned it into a multi million dollar empire; and the spurned legitimate son – rebel, poet, one-time communist – who inherited a single run-down department store which he used as the basis of an empire of style.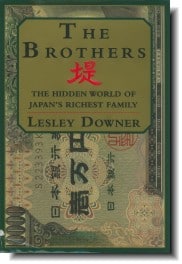 The Tsutsumis are one of Japan's greatest dynasties and, like the Rockefellers or Getty's in the west, have achieved a near-mythic status. Theirs is the ultimate rags-to-riches tale, a drama of cut throat business intrigues and ties of honour, family rivalry and the trials of wives and concubines, set against the turbulent background of Japan in the twentieth century.
Lesley Downer gained unprecedented access to the Tsutsumi family and those close to them. Here is a unique window on vast wealth and power Japanese style, taking us beyond the stereotype of pinstriped drones to a sweeping drama of Shakespearian proportions.
The Brothers was named as one of The New York Times 'Books of the Year' 1995.
Reviews
'Lesley Downer … has written a gripping book.' David Sanger, New York Times Book Review
'.. traces in vivid and entertaining detail the tale of two generations of Tsutsumis. … an absorbing tale of our times, entertainingly told.' The Times
'Ms Downer .. uses the Tsutsumi family as a way to bring human colour to Japan's recent history.' The Economist
'Lesley Downer's light-footed recounting of their story is very welcome. She manages an attractive balance between the general history of the period and the domestic details of this sprawling, stylish and terrifyingly ambitious family.' Independent on Sunday
'The Brothers reads like an epic novel. [She brings] Japanese history and the Tsutsumis to life.' Newsday