On the Narrow Road to the Deep North
Buy from Amazon.co.uk · Buy from Amazon.com · Kindle UK · Kindle US
'Summer grasses –
All that remains
Of mighty warriors' dreams.'
In 1689 Japan's greatest poet, Matsuo Basho, set out on a journey to the remote northern provinces. As he travelled he wrote haiku, seventeen syllable poems, encapsulating the strange, surreal and even comic encounters he had or even the soreness of his feet.
Three hundred years later, inspired by Basho's writing and her passion for Japan, Lesley Downer followed in his footsteps. Walking and hitchhiking towards the Sacred Mountains with their legendary priests, meeting people who had never before seen a westerner and dining on flowers and sautéed grasshoppers,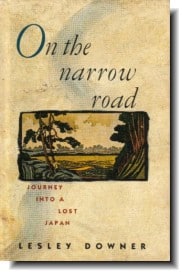 she found herself in a world which many Japanese believe vanished centuries ago. She stayed in farming villages, composed poems with the poets of a lonely northern town and finally she too arrived at the Sacred Mountains.
Rich in atmosphere and history, On the Narrow Road to the Deep North evokes both the chaos and concrete of the new Japan and the simple aesthetic of the old. It is one of those rare books that provide a window into a vanished world.
On the Narrow Road to the Deep North was filmed by Channel 4 and WNET as 'Journey to a Lost Japan'. It was the basis for a film by NHK, the Japanese national broadcasting corporation, entitled 'Journey of the Heart.'
Shortlisted for the Thomas Cook Travel Book of the Year Award 1990.
Watch 'Journey to a Lost Japan'
Reviews
'Original and engaging … Lesley Downer is the perfect guide – expert, intrepid, following a dream.' John Carey, Sunday Times
'Like Basho [Downer] is herself on a 'journey into a lost Japan' … In remote valleys Ms Downer rediscovers the lost Japan and describes it memorably.' – John David Morley, New York Times
'One of the principal charms of On the Narrow Road to the Deep North is that it deals with aspects of Japan which are quite outside any of our stereotyped assumptions … Downer has an instinctive insight into the way the Japanese think – a rare commodity which she uses with a marvellous delicacy of touch.' Katie Hickman, Literary Review
'A delightful book.' Washington Post